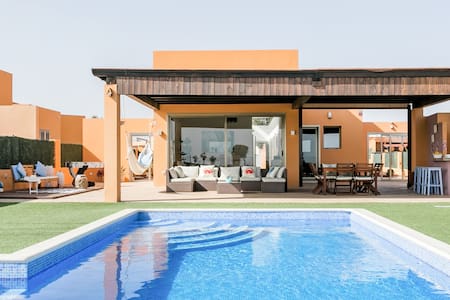 PLUS
Teljes villa · 9 vendég · 9 ágy · 3,5 fürdőszoba
Exclusive Family Villa. Ocean-View Heated Pool Playground
Lounge poolside on a pearly-white cabana, while the kids play on slides and swings. Spot shooting stars from a hammock on a south-facing garden terrace. Enjoy hours of fun with your loved ones with the stylish outdoor pool table or the table football. Bright, simply-styled interiors, peppered with coastal-themed prints, have a fresh, Scandi feel. Families with little ones enjoy the relief of a certified pool fence and a list of available gear: car seats, strollers, cots, toys, etc. All just 10 minutes walk from an incredible sand beach and a large Shopping Centre in sunny Fuerteventura.
Ezt mondják a vendégek:
"Mone & Hernan vannak csodálatos házigazdák és a ház csak tökéletes és nyugodt. Minden elő van készítve és szervezett jól érzi magát. Ez jól berendezett, nagyon tiszta, minden szükséges felszereléssel. A medence nagy. Ez tényleg elképesztő és pihentető, hogy grillezés fél otthon. Ha a gyerekek mindent megtalál, amire szükség van a boldogságot és vigyázni rájuk. A ház közepén található a szigeten. Tehát ez egy stratégiai hely, hogy látogassa minden területen könnyen. Mi töltött nagy ünnepek. Erősen ajánlom ezt a helyet !!!! Ez a sor, hogy élvezd! Sok köszönet Mone & Hernan!"
Comfortable house in Lajares on the island of Fuerteventura with hidden swimming pool. Fully furnished kitchen and wash machine. Hot water from the sun. Order healthy bottled water for your stay.
Ezt mondják a vendégek:
"10 nap voltunk a mi majdnem hároméves lányunknál a Wimben, és izgalmasak voltak! A ház nagyszerű, nagyon ízléses és jól felszerelt. Bár nem egyedül van, úgy érzi, teljesen elszigetelődik más házaktól stb. A terasz egy kicsit olyan, mint egy kis udvar. Talán 10 méterre van a medencéhez. Amikor a medencénél voltunk, leginkább egyedül voltunk (még akkor is, ha két stúdió vendégei használják). Van egy jógaterem a Wim ingatlanán, ahol a jógaórák szinte minden nap megtörténnek, és én spontán csatlakoztam, ami nagyszerű gazdagodás volt a nyaraláshoz. A strandok mindkét irányba könnyen megközelíthetők (El Cotillo és Corralejo). Számunkra a Wims szálláshely tökéletes volt!"
A dream house built by the artist and architect Antonio Padrón, architect inspired by the famous artist from Lanzarote, Cesar Manrique, situated on one of the most beautiful beaches of Fuerteventura. Surrounded by peaceful little bays, sand and the Atlantic Ocean, this beach house is an oasis for all those who love the sea and are looking for a holiday far away from mass tourism. The house is located right on Los Lagos beach. It is a charming and special house, with a beautiful organic architecture. It consists of an open dining room at the entrance, bathroom, kitchen and sleeping room with 2 beds on the first floor, and another double bedroom on the second floor, with a beautiful little balcony for relaxing moments watching the beach or reading... One of the nicest spot of this house is the dining area in the garden, built below the floor level! It offers privacy and lets you enjoy the peace of this place... The house works with a solar system for energy supply, so we will very much appreciate awareness of its consumption! About El Cotillo ……El Cotillo is a fisherman village on the north west coast of Fuerteventura. It offers beautiful and very different beaches on both sides of the village. The area around the old harbour is particularly pleasant with its restaurants, cafés and few shops. The village is very quiet and has fortunately not been "invaded" by mass tourism, as some other places in Fuerteventura. Having long walks on the sand, biking on small roads or hiking on volcanoes are some of the activities you can enjoy from here. El Cotillo offers all basic facilities (supermarket, shops, restaurants, bars,...) and is only 20 km away from more touristic places like Corralejo. Finally, please note that renting a car is the best option in order to visit the island and to come to this house! We look forward to welcoming you!