Slow Food Galapagos Conscience Travel
Slow Food Galapagos Conscience Travel
Island hop around Galapagos for wild, up-close encounters with the locals!
Az élményprogram nyelve:
angol
Magában foglalja:
étkezés, szállás, fuvar, felszerelés
Slow Food Galapagos Conscience Travel
Slow Food Galapagos Conscience Travel
Island hop around Galapagos for wild, up-close encounters with the locals!
Az élményprogram nyelve:
angol
Magában foglalja:
étkezés, szállás, fuvar, felszerelés
During our 6-day adventure through the Galapagos Islands, we'll be supporting the local farms, restaurants, and hotels that encourage sustainable practices. All the while with local guides and local Slow Food members. With some time to explore on your own, as well. You will sleep with the tortoises at the Monte Mar tortoise reserve, drink fresh coffee from their bio-dynamic coffee project, harvest ingredients at Huerta Luna permaculture farm, taste fresh ceviche and wild goat, catch fish that we'll eat onboard a private yacht, and enjoy a tasting menu at Anker Mar to Table, the most innovative restaurant in Galapagos! When we're not feasting, we'll kayak, snorkel, paddle-board, hike, sail, and enjoy sugar sand beaches. What will you see? Giant Galapagos tortoises, of course, blue-footed boobies, frigate birds, sea lions, Darwin's finches, white-tip sharks, and maybe even some Galapagos penguins!
We are a couple of locals that really care about our islands and we treat our guests like friends and family. We have been leading community-based tourism efforts for 10 years here in the Galapagos Islands. Check out our stellar Galapagos Alternative reviews on TripAdvisor. :) Since starting our local Slow Food chapter and connecting with Airbnb at Terra Madre in Italy, we have developed a Slow Food-inspired multi-day experience that allows you to make a positive impact during your visit to the islands by supporting local farms and the restaurants and hotels that encourage sustainable practices. We are always looking for unique experiences so our guests can have an authentic connection with nature, the culture, and the people..and what better way than through food? Of course you will get to meet all the wild natives too...
Együttműködő partner: Slow Food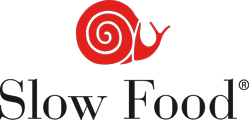 Ezt az élményprogramot a Slow Food elveivel összhangban alakították ki, így biztos lehetsz benne, hogy társadalmi szempontból felelősségteljes és ökológiai szempontból fenntartható módon készült, ízletes fogásokkal szolgál.
A Slow Food egy globális, alulról szerveződő mozgalom, amelyet 1989-ben alapítottak, hogy megelőzze a helyi élelmiszerkultúrák és hagyományok eltűnését, és ellensúlyozza a gyorséttermi kultúra felemelkedését. Alapítása óta globális mozgalommá nőtte ki magát, amelynek célja annak biztosítása, hogy mindenki hozzájusson jó, tiszta és tisztességes élelmiszerekhez. A házigazda támogatása mellett a hozzájárulásod világszerte segíteni fogja a Slow Food mozgalmat a helyi közösségek megerősítését célzó projektek végrehajtásában, a kézműves gazdálkodók és termelők népszerűsítésében, valamint az iskolakertek és oktatási projektek támogatásában.
Ez egy társadalmilag hasznos élmény, amelynek esetén az általad fizetett összeg 100%-át a(z) Slow Food kapja.

5 reggelik, 5 ebédek, 4 vacsorák, 1 kóstolómenü, harapnivalók

7 éjszaka villa típusú szálláshelyen, 7 éjszaka szálloda típusú szálláshelyen

3 hajó fuvar, 2 busz fuvar, 2 Autó fuvar

Sportfelszerelés, biztonsági felszerelés, szabadtéri felszerelés, egyéb
We'll start and end our journey at Seymour Airport on Baltra Island in Ecuador's Galápagos National Park. We'll travel 3 hours to Santa Cruz island, then visit North Seymour and Pinzón islands. Flight to Galapagos are not included.
Bármelyik élményprogram lemondható, és teljes visszatérítés igényelhető a fizetéstől számított 24 órán belül.
Mindig az Airbnb-n keresztül kommunikálj. A fizetésed védelme érdekében soha ne utalj pénzt és ne kommunikálj az Airbnb webhelyén vagy alkalmazásán kívül.
Vendégekre vonatkozó követelmények
Legfeljebb 6, legalább 8 éves vendég vehet részt. A kaland aktivitási szintje könnyű. Guests should know how to swim. Snorkel experience is nice but not required. Bring a reusable water bottle and reject single-use plastics. Bring protective…
Allow at least two hours before your flight for processing. Pre-check your bags at bio-control and get your TCT card ($20) before checking in for your Galapagos flight. These are two different counters. Have passports and $100 cash ready for Galapagos National Park entrance fee.
6 napos kaland
Slow Food Galapagos Conscience Travel